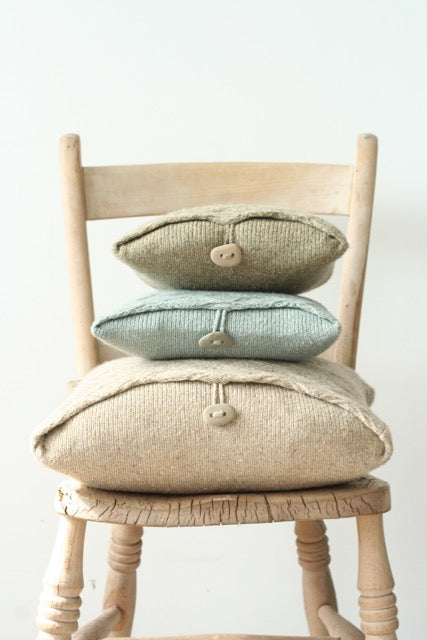 Cushion, cushions everywhere and not a place to sit……
Hume Sweet Hume began with cushions.
'From our home'…….where in the beginning they lined the hallway, covered the kitchen table and filled the sitting room.
The joys of a small business run from home.
 Grobust Beach, our favorite sandy bay was the inspiration for our first cushion design.
This is a picture taken on one of Jenna's early morning cycles – a great way to start the day.
(though I, Lizza, usually prefer to stay a bit longer in bed) 😉
The Grobust Cushion, named after Grobust beach, continues to be one of our best sellers 17 years on. It reflects the patterns in the sand left by the sea as the tide ebbs and flows.
In keeping with the beach connection, each cushion is  finished with a pebble button which has been gathered from the beach(when it isn't raining!) and carefully drilled in our workshop.
(Grobust Cushions – Biscuit, Lt mint, Shingle)
(Sections of paintings in progress by Jenna)
Inspiration on our doorstep
Colours that we love……..we hope you do too!