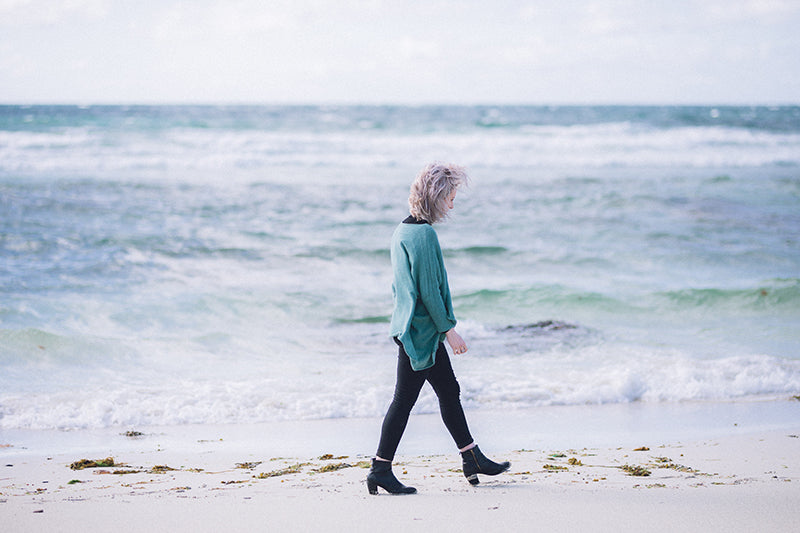 Knitwear is one of the most sustainable choices you can make when it comes to clothing. It's made of natural materials and is durable, and comfortable but there can be some confusion on how to care for your lovely knitwear. We have gathered all our best tips and advice into one place, helping you to make your knitwear last a lifetime.
Quick Tips for Knitwear
Pieces can be pressed using a light steam iron or a steamer

Steaming garments can also help with longevity

With the right care and attention to detail, these garments can last for years making them a sustainable choice for your wardrobe
How To Wash Knitwear
Do not machine wash your knits. We know, it worked that one time when you were in a pinch but no two machines are the same and therefore it is not worth the risk. When one wash may work, the next one may not. Be kind to your knits and handwash them whenever you can.
Turn your wool item inside out.

Fill your sink (or a large bucket) with warm water. No warmer than 30°C.

You can use detergent or wool shampoo. Add based on specific instructions on the garment. Agitate the water to create bubbles. 

Place your garment into the soapy water, gently swishing it around to let the suds fully seep into the material. Gently squeeze but be cautious not to rub the wool together.
Use cool water to rinse your wool. Do it as many times as it takes to wash out the detergent residual, at least twice. Try not to lift the wool garment, as the heavy water will stretch it out. 

Instead, carefully roll it into a ball and gently squeeze or press the material to remove water. 

Use a dry towel and gently press to blot up as much of the water as possible.

Lay the item flat on the towel and reshape it before drying. Remember: There is no need to stretch our garments too much after washing as this may distort them.
How to remove stains from knitwear
Always scoop or blot any excess spills quickly using white tissue or an absorbent towel. Remove solid stains with a blunt knife or spoon.

When possible, pre-test any treatment in an unseen area to check for any appearance change, colour loss or dye-bleeding.

To treat a stain, apply small quantities of liquid treatment and blot well. Do not rub with a clean tissue after each application. Work carefully to release the stain from edge to centre.

Take care if using chemicals to treat stains and work in a well-ventilated area.
How to dry knitwear
Firstly, make sure your wool is washed and you have squeezed out any excess water (see above for more information). 

Lay it flat on top of a towel. If you use a white towel, it prevents dye from coloured cloth from bleeding into your garment. 

Reshape the item into its natural shape and remove any creases or folds. Remember: There is no need to stretch our garments too much after washing as this may distort them.

As the fibres dry, gently knead the material into the correct shape and size to make sure it doesn't shrink.

Leave it to air dry naturally, keeping it away from heat sources and direct sunlight. 
How to store Knitwear
Hanging knits in your wardrobe can cause them to stretch out, being pulled down by their own weight. Instead, you should neatly fold your knitwear. This is true for jumpers and many other types of knits.  
Lay the sweater on a flat surface.

Fold one sleeve in and lay them parallel to the edge of the sweater. Repeat with the other sleeve.

Push down on the sweater to expel any air.

Fold the sweater in half with the sleeves in, making a neat square.
How to deal with pilling and pulled yarn
If you cut a pulled thread in a sweater; you'll end up with a hole. Instead, you can use a large needle to gently work it back into its proper place in the fabric.
Begin by turning your garment inside out.

If the pulled thread has caused the fabric to bunch, gently stretch it back into shape. Some of the yarn will begin to go back into place.

Using a large blunt needle, tease the thread back into position.

Pull the thread through to the next stitch and then the next, dispersing excess along the row.

Repeat on the other side of the snag. Once the thread is in position, smooth pulled area, and steam.
Sources